On this post, you'll find Top 50 Great Songs To Play On Harmonica. For each of them, you'll find the tabs, audio clip, and backing track. For some for the songs, a full lesson is available – make use of the appropriate link to are able to the lesson page.
I have personally played all the songs listed and decided to perform them in a freer way, choosing for each how much to in order to the original melodies; in certain areas cases, you'll find variations of the main theme as well as some improvisation. The purpose of such page is to offer you some great ideas about how to play any song you like, whether it's a harmonica song, or one that doesn't involve harmonica but that you want make use of of to reproduce the vocals or any other item.
Top 50 Great Songs To Play On Harmonica
Some of these songs are easy, and beginner player can grab their harmonica and have fun playing them in several minutes, the intermediate harmonica players can try my enhanced versions, and the improvisation they'll find with most of the tunes.
More songs will be added in on these pages every week, so stay tuned and enjoy learning is not best music of paid traffic . century!
Help me growing this page, you like the songs, share it with your amount of friends, I would really appreciate it!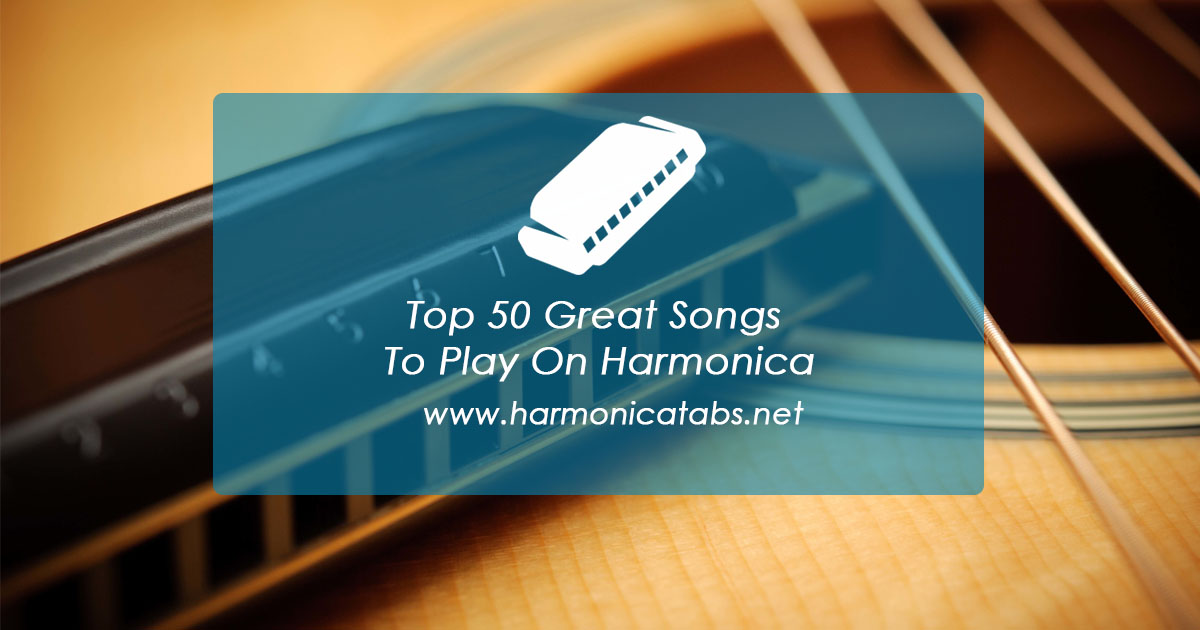 Top 50 Great Songs To Play On Harmonica
01. All Along The Watchtower by Bob Dylan
02. Amazing Grace
03. Auld Lang Syne by Robert Burns
04. Bad To The Bone by George Thorogood
05. Battle Hymn of the Republic
06. Bella ciao
07. Blowing In The Wind by Bod Dylan
08. Dirty Old Town by The Pogues
09. Game Of Thrones Theme by Ramin Djawadi
10. Hallelujah by Leonard Cohen's
11. Happy Birthday
12. Heart Of Gold (Diatonic) by Neil Young (Chromatic Version)
13. Hey Jude by John Lennon (Chromatic Version)
14. Home On The Range by Daniel E. Kelley
15. Home Sweet Home by John Howard
16. Hurt by Trent Reznor (Chromatic Version)
17. I Wanna Dance With Somebody by George Merrill
18. Imagine by John Lennon (Chromatic Version)
19. Jingle Bells by James Lord Pierpont
21. Knocking On Heavens Door by Bob Dylan
22. La Bamba by Ritchie Valens
23. Let it Be by The Beatles
24. Love Me Do by the Beatles
25. Love me Tender by Elvis Presley
27. Mary Had A Little Lamb by John Roulstone
28. Mary Jane's Last Dance by Tom Petty
29. No Woman No Cry by Vincent Ford
30. Ode To Joy by Beethoven
31. Oh! Susanna (Chromatic) by Stephen Foster (Diatonic)
32. On Top Of Old Smokey by Pete Seeger
33. Piano Man by Billy Joel
34. Red River Valley by Jules Verne Allen
35. Roadhouse Blues by The Doors
36. Silent Night by Joseph Mohr
37. Somewhere Over The Rainbow by Arold Harlen
38. Stairway To Heaven By Jimmy Page
39. Stand By Me (Chromatic) by Ben E King (Diatonic)
40. Sunny by Bobby Hebb
41. Take Me Home, Country Roads by John Denver
42. The House Of The Rising Sun by The Animals
43. The Sound Of Silence by Simon and Garfunkel
44. The Wizard by Geezer Butler
45. Thinking Out Loud by Ed Sheeran
46. This old man
47. What A Wonderful World by Louis Armstrong
48. When The Saints Go Marching In
49. Yellow Submarine by The Beatles
50. You Are My Sunshine by Simon Ravenhall
We hope with our list, you can enjoy best songs with a harmonica!