Harmonica players today have access to a wealth of software tools that can help them learn, play, record, and maintain their instrument. In this article, we'll explore some of the most useful softwares for harmonica players. Whether you're just starting out or you're an experienced player looking to expand your harmonica horizons, read on for a roundup of handy harmonica helper apps, sites, and programs.
Top Useful softwares for Harmonica players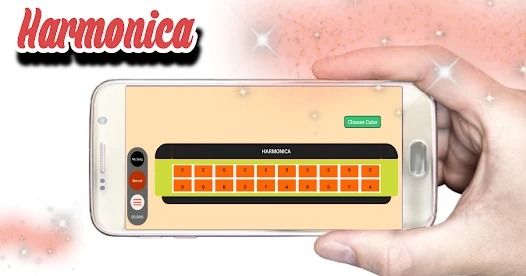 Learning Tools
When you're first taking up the harmonica, it can be invaluable to have supporting software to supplement your practice. Learning-focused programs can provide structured lessons, receptive feedback, and resources to accelerate your mastery of the instrument.
Apps for Learning Harmonica (for Android & iOS)
Dedicated harmonica learning apps like Harmonica – Play and Learn provide beginner-friendly interfaces with progressive lessons, covering everything from holding the harmonica properly to playing songs. Built-in microphones listen to your playing and offer real-time feedback to improve your technique. Other features like slow tempo controls, note highlights, and repeat loops maximize your retention while learning.
Harmonica Easy Tab
Harmonica Easy Tab is a free mobile app for Android that provides a library of tablature and songs for playing harmonica. It includes over 150 songs with tablature shown in an easy to read format. The app also has useful tools like a tuner, metronome, and transpose options.
Pros:
Large selection of songs and tablature spanning different genres
Tabs are displayed clearly and easy to follow along
Transpose feature makes playing in different keys easy
Built-in tuner and metronome tools aid practice
Completely free app with no ads or in-app purchases
Cons:
Limited to Android mobile devices, not available on iOS
No sheet music view option, tablature only
Small text and interface may be hard to read on smaller screens
Can't slow down or loop song playback for practice
No cloud sync between devices or backup options

Real Harmonica
Music teachers recognize the need for a practical guide to help beginners enter the world of harmonica playing. For those looking to pick up the harmonica, Real Harmonica provides the perfect portable toolkit to start learning anytime.
Real Harmonica is designed for people seeking a functional harmonica instructional they can carry and consult on-the-go. The app covers the many types of harmonica, including diatonic, orchestral, bass, and more. Detailed directions are provided for every harmonica variety so users can get oriented with their new instrument.
The app visually lays out all the notes and holes found on a harmonica. Real Harmonica is easy to pull up and use even during short breaks, making it an ideal learning companion for busy students. Whether you're able to practice for hours or just have a few minutes to spare, Real Harmonica has the specialized guidance to further your harmonica education.
With Real Harmonica, music teachers have created an application to serve as a true roadmap to musical enlightenment for harmonica beginners. If you're looking to pick up this satisfying instrument, Real Harmonica has the tools to start playing right away.
Pros:
Structured video lessons cover harmonica basics to advanced techniques
Large library of songs with tablature and backing tracks
Audio recorder and slow downer help you analyze and improve
Backing tracks allow you to play along and practice improvising
Visual feedback shows your pitch accuracy during lessons
Clean interface optimized for mobile
Cons:
Backing tracks may sound robotic or MIDI-like
Small text and tabs can be hard to read on small screens
Features like cloud sync, sharing not available
Apple Store is not available.

Harmonica Bending Trainer
Harmonica Bending Trainer is a mobile app focused on helping players master the challenging technique of bending notes on the harmonica. Available for Android, the free app lets you practice bending while providing visual feedback.
Pros:
Displays pitch bend range as you play, making your progress visually clear
Lets you set target notes and bend ranges to practice hitting specific pitches
Audio recordings allow you to analyze and improve your bending technique
Simple, clean interface with focused tools just for bending
Free app with no distracting ads or in-app purchases
Cons:
Does not actually play audio to demonstrate proper bending technique
Limited to practice with sustained single notes, no melodies
Provides feedback but no lessons on how to achieve proper embouchure
Only measures bending on blow notes, not draws
Accuracy depends on microphone quality and ambient noise
Overall, Harmonica Bending Trainer aptly aids practice and measurement of harmonica bending skills. While light on instruction, its real-time visual feedback makes it easier to develop and self-correct your proficiency with this essential technique. The free specialized app fills a useful niche for bending practice.
Harmonica Clinic
Harmonica Clinic is a paid learning app for iOS focused on techniques like bending, overblowing, and vibrato. Through progressive video lessons and built-in tools, it aims to help players master difficult harmonica skills.
Pros:
High quality tutorial videos cover advanced techniques step-by-step
Slow-motion video player lets you analyze instructor's technique
Tools like pitch viewer provide visual feedback as you play along
Covers genres beyond blues like rock and jazz
Wide range of difficulty levels to progress from beginner to advanced
Cons:
Available only on iOS, not Android devices
Backing tracks are MIDI-based and can sound unnatural
No ability to record yourself playing over lessons
Relatively small library of less than 50 tutorial videos

HarpNinja
HarpNinja is a free Android app for learning and playing harmonica. It provides a clean, interactive interface along with tools like songs, lessons, and backing tracks.
Pros:
Beginner-friendly animated lessons cover basics like holding, breathing, bending
Songs feature tab, slow-down, looping to learn at your own pace
Backing tracks allow you to jam and practice improvisation
Responsive design optimized for phones and tablets
Completely free with no ads or paywalls
Cons:
Limited selection of just 10+ lessons and 30+ songs
No tablature view for songs, only basic numbered notation
Cannot create customized playlists or favorites
Backing tracks are MIDI quality, not recorded audio
No cloud sync between devices or Chromecast support

Harmonica Lessons

Teach Yourself Harmonica

Harmonica Exercises

The Harmonica Plus

Learn to play the harmonica

Harmonica Saz

YouTube Tutorials
Beyond apps, a world of harmonica tutorial content exists on YouTube. Experienced harmonica teachers share useful tips on embouchure, bending notes, and more. Seeing as well as hearing the guidance makes YouTube an excellent free resource. Searching "learn harmonica" yields many detailed, high-quality video lessons.
Online Courses
For those seeking a structured curriculum, online harmonica courses like HarmonicaLessons.com provide step-by-step training programs. Ranging from absolute beginner lessons to advanced techniques like tongue blocking and overbends, these courses offer guided progression along with community support. Their video libraries allow you to learn at your own pace.
Recording Software
Once you've developed your harmonica skills, recording your playing can be rewarding and fun. Specialized software exists to capture harmonica's expressive nuances.
DAWs for Recording Harmonica
Digital audio workstation (DAW) software like GarageBand, Logic Pro, Ableton Live, and Pro Tools all allow for quality harmonica recording. Their editing capabilities enable you to perfect your takes and add effects. Features like autotune can even compensate for imperfect pitch during bending or overblowing.
Plugins for Harmonica
Harmonica-specific audio plugins can accentuate the instrument's signature sound. The EastWest Quantum Leap Blues Harmonica virtual instrument simulates a variety of blues harp mics and amps. For convenience, AudioModeling SWAM Harmonica generates realistic harmonica tones via MIDI. And effects like Waves Metaflanger or Soundtoys Crystallizer can infuse your harmonica recordings with psychedelic style.
Backing Tracks
Playing along with backing tracks augments the fun of harmonica while tightening your rhythm and improvisation skills. Some software provides auto-generated accompaniments.
Apps for Jamming to Backing Tracks
Apps like iReal Pro offer a band-in-your-pocket experience, with AI-generated backing tracks in any style, key, and tempo. You can slow tracks down to practice and memorize their chord changes. Then test your soloing chops at full speed while iReal Pro follows you.
YouTube Backing Track Channels
YouTube channels like Backing Tracks for Harmonica provide extensive libraries of style-specific backing tracks to jam along with. Blues, rock, jazz, country, and bluegrass backing tracks give exposure to each genre's characteristic progressions.
Sheet Music Tools
While harmonica playing doesn't strictly require reading sheet music, some players appreciate tablature references. Software exists to display and transpose tabs.
Apps for Sheet Music
Mobile sheet music reader apps like Musicnotes or forScore allow you to access, annotate, and even transpose digital sheet music. Their libraries include harmonica songbooks and tablature. You can follow along hands-free on a tablet rather than flipping pages.
Websites for Harmonica Tabs
Websites like Harptabs.com compile user-submitted harmonica tablatures spanning genres from pop to classical. Their song catalogs, often with multiple tab options per song, offer helpful guidance for learning pieces note-for-note. Transposition tools make it easy to adapt tabs to your key of harmonica.
Tuning and Maintenance
Keeping your harps sounding their best involves regular tuning and upkeep. Some software aids this important process.
Tuning Apps
Mobile tuning apps with chromatic pitch detection like Cleartune or InsTuner can assist with tuning your harmonica to concert pitch or custom temperaments like just intonation. Their precision tools and audio feedback help optimize your instrument's tuning.
Cleaning and Maintenance Tools
Proper harmonica maintenance requires occasional deep cleanings. While not software per se, ultrasonic cleaners provide an effective digital solution to remove grime from a harmonica's reeds and combs. Just a few minutes of ultrasonic vibration can restore free reed motion and clean airflow.
Conclusion
In summary, exploring specialized software can expand a harmonica player's abilities and enjoyment. Learning apps expedite mastery, recording tools capture expressive playing, backing tracks make soloing fun, tablature aids reference songs, and maintenance programs keep harps sounding their best. Integrating the variety of helpful digital solutions above will have you wailing the blues – or any genre – in no time. Software might not directly improve the mechanics of your harmonica playing, but it provides assistance to deepen your relationship with the storied instrument.
FAQs
What are some good free options for harmonica software?
YouTube has a wealth of free harmonica learning content. Mobile tuning apps like Cleartune offer precision tuning for free. iReal Pro gives you a limited number of free backing tracks per day.
Can I record quality harmonica with just my computer's built-in microphone?
It's recommended to use a USB microphone or audio interface with an XLR mic to capture professional-grade harmonica recordings. The built-in mic on a computer or phone is convenient but has audio quality limitations.
Where can I find tablature for my favorite songs?
Websites like Harptabs.com and mobile sheet music apps like Musicnotes have searchable harmonica tablature libraries spanning many genres and songs. You can often find multiple tab options for popular songs.
How can software help me learn harmonica faster?
Learning apps provide structured lessons and reactive feedback tailored to harmonica skills. YouTube lessons allow close visual observation of techniques. Online courses offer guided progression paths. All accelerate learning compared to practicing alone with just a harmonica.
What software can help me maintain my harmonica?
Ultrasonic cleaners are highly effective at deep cleaning harmonica combs and reeds to restore responsiveness and clear tone. Tuning apps help optimize harp tuning. Both maintenance software solutions promote longevity of the instrument.